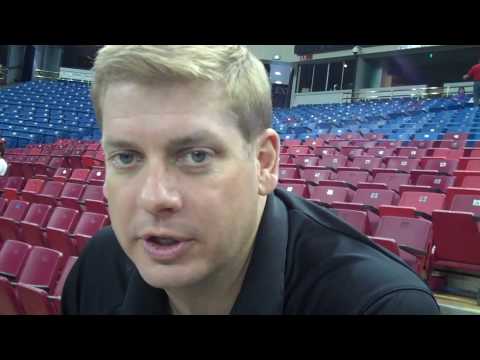 TRACKING THE ZAGS
By Sabrina Jones
SACRAMENTO, Calif. – It has become somewhat of a Gonzaga University tradition. Having a Jesuit on the  basketball team's bench, that is. It all started with well-known alumni chaplain Father Tony Lehmann, S.J., who was the men's basketball chaplain from 1982-2002. He became a familiar face to the players, coaches and fans of Gonzaga basketball. When diagnosed with leukemia in late 2001 and unable to attend any of the team's remaining games, the players honored him by leaving his chair intentionally empty, waiting for his return.
When Fr. Lehmann passed away that March, players wore a "Fr. Tony" patch on their uniforms throughout their NCAA tournament games. Today, a bronze chair adorns a corner of the concourse in McCarthey Athletic Center in Fr. Tony's honor, along with the words "to be continued," his signature sign-off.
Today, the tradition continues. The Lady Zags have had Father George Morris, S.J., as their supportive chaplain. He has been there for all of the team's home and away games, including last weekend's first- and second-round games in Seattle. Unfortunately, Fr. Morris had a conflict this weekend and wasn't able to make it to Sacramento for the Regionals.
In the spirit of all things Jesuit, a prayer (or two!) must have gone up and was answered with the arrival of Gonzaga's University Ministry Director Father Craig Hightower, S.J., who arrived at Arco Arena on Friday afternoon. Hightower is the men's basketball chaplain and recently returned from Buffalo after the mens team lost to Syracuse. He has high hopes for our Lady Zags and looks forward to taking his seat at the end of the bench tomorrow night at 8:30 p.m.
Amen and Hallelujah!