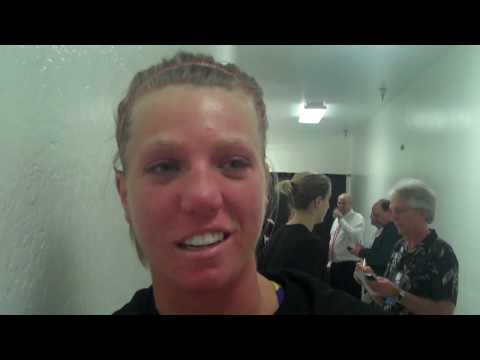 TRACKING THE ZAGS
By Sabrina Jones
SACRAMENTO, Calif. — In the end, the Xavier Musketeers were just too much for Gonzaga's Lady Zags. The Zags' record-breaking, heart-pounding basketball season came to an end with a 74-56 loss to the Musketeers in a Sweet Sixteen game held at the Arco Arena Saturday night. The Musketeers will face No. 1-seeded Stanford on Monday night for a bid to the Final Four.
"I'm really proud of how we did this season," said Gonzaga head Coach Kelly Graves. "There were a lot of firsts we accomplished. I know my team was very disappointed in the locker room. But I think when they have a chance to sit back and look, I think they'll realize it was a great ride, a lot of fun and we enjoyed every minute of it."
The two bigs for Xavier — 6-foot-5-inch Amber Harris and 6-foot-6 Ta'Shia Phillips — combined for 24 of their team's 47 rebounds and nearly half the points (Harris 14, Phillips 22). Combined with the outside play of freshman guard Katie Rutan, who finished with 15 and shot 100 percent from the three-point arc, the Musketeers were nearly impossible to stop  and made it difficult for Gonzaga to get its offense rolling.
"Our transition defense was the key in slowing down Gonzaga," said Xavier head Coach Kevin McGuff. "When you allow Gonzaga to get going in transition, they are almost unstoppable. To be able to hold them to 56 points is an accomplishment."
Sophomore forward Katelan Redmon led the Zags in scoring with 14 points, including 12 in the second half, while Vandersloot led Gonzaga in rebounds with 7. Seniors Heather Bowman, Tiffanie Shives and Vivian Frieson ended their careers with 12, 11 and 9 points, respectively.