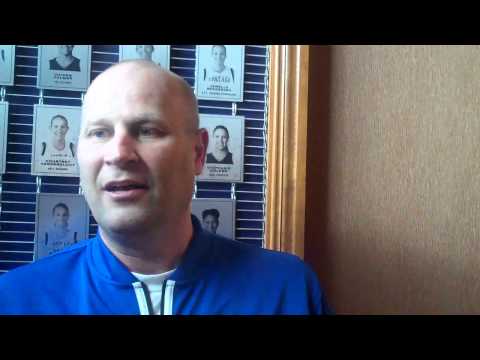 SPOKANE, Wash. - They may not have had to wait as long as the men's team, but the women Zags were definitely on the edge of their seats to learn who their first-round opponents would be on Saturday. Cheers and applause erupted as soon as Gonzaga appeared on the screen, as a No. 11 seed pitted against the Iowa Hawkeyes, who are seeded No. 6.
"They play a lot like us, they're fundamentally sound," said head Coach Kelly Graves. "They've been to several NCAAs in a row, so they are experienced and battle-tested. I think it's going to be a really good game on Saturday."
The Lady Zags will play on their home court in McCarthey Athletic Center at 1 p.m. on Saturday. While the all-session tickets are sold out, there are still some single-game tickets available which will be available for purchase on Wednesday at 9 a.m. by going to the Gonzaga Ticket Office, ordering online at www.gozags.com or www.ticketswest.com or by calling TicketsWest at 1-800-325-SEAT.
The Lady Zags come into the tournament after capturing the WCC Tournament Championship in Las Vegas, going undefeated in the conference throughout the 2010-11 season. "It means a lot to us to be at home for this tournament," said point guard Courtney Vandersloot. "I think it gives us a little bit of an edge to be in our own environment. It will be a good thing for us to take our successes from last year into the tournament this year."
And thanks in large part to Vandersloot, the Lady Zags have had plenty of successes, including making the NCAA tournament the past three years, going the deepest last year when they advanced to the Sweet 16. Vandersloot enters into the tournament averaging 18.6 points per game, leading the nation in assists with 10.2 per game, and surpassing the 1,000-assist mark during the regular season, a feat only three others have reached.
No. 3-seed UCLA and No. 13 seed University of Montana will play 30 minutes after the completion of the Lady Zags-Hawkeyes game. The winners of each game will play Monday night at 6:30 p.m. in McCarthey Athletic Center; that team will go on to play in the Spokane Regional bracket to be held at the Spokane Veterans Memorial Arena March 26 and 28.