Rev. Coughlin Celebrates 70 Years as a Jesuit
SPOKANE, Wash. – Gonzaga Chancellor Rev. Bernard J. Coughlin, S.J., celebrates his 70th anniversary as a Jesuit this month. From the St. Louis Province of the Society of Jesus, Father Coughlin served as Gonzaga's president for 22 years (1974-96), improving Gonzaga's academic profile, and building strong relations with the community. The St. Louis Province will celebrate his service on Sept. 16. A Fulbright scholar in 1971, he chaired the Spokane Area Chamber of Commerce in 1988-89, and rallied Spokane against racism and hate. How does a lifelong leader and respected voice for social justice celebrate his 70th jubilee year? He comes to the office every day – and publishes a book. Look for release later this fall of "The Soul of a Nation: Culture, Morality, Law, Education, Faith" – a collection of essays and commentaries by Rev. Coughlin (University Press of America/Hamilton Books). Drop him a note (post is best) to: Gonzaga University, AD 101, Spokane, WA., 99258.
---
Garvin Presents Constitution Day Lecture Sept. 17
SPOKANE, Wash. – Blaine Garvin, professor of political science at Gonzaga University, will present a lecture at 7 p.m., Monday, Sept. 17 in celebration of both the U.S. national holiday Constitution Day and Gonzaga's 125th Anniversary Celebration. The lecture is free and open to the public and will be held in the Cataldo Hall Globe Room. The lecture is titled,  "A Partnership to Be Looked upon with Other Reverence . . . or What the Broken Jaw of a Green Plastic Alligator Can Teach Us about Gonzaga University and about Our Country." Garvin – who also serves as interim dean of Gonzaga's College of Arts and Sciences – will focus his remarks on the history of the Constitution in the context of both a U.S. presidential election year and Gonzaga's 125th Anniversary.
---
Centioli Delivers Pigott Lecture 
SPOKANE, Wash. – Gerard Centioli, founder, president and CEO of ICON, delivered the Second Annual Pigott Entrepreneurship Speaker Series lecture at 6:30 p.m., Thursday, Sept. 13 in the Jepson Center's Wolff Auditorium. His speech, "Iconic Reflections: People and Concepts That Represent the Best of the Restaurant Industry," explored successful food-service industry icons that highlight effective strategies for any sector. A Gonzaga alumnus and Regent, Centioli also reflected on his time as a Gonzaga student. A 5:30 p.m. reception in the Jepson Center Lobby will precede the lecture. The event is free and open to the public.  . . . Read More
---
 Author Turow to Launch Law School Centennial
SPOKANE, Wash. – The Gonzaga University School of Law will launch the yearlong celebration of its Centennial with a lecture by acclaimed author Scott Turow at 7 p.m., Thursday, Sept. 20 in Gonzaga's Martin Centre. A book-signing event and reception will follow the lecture. The events are free and open to the public. Turow's lecture – titled "Where Are You Perry Mason?" – will explore the popular image of lawyers, the power of attorneys in U.S. society, their perceived dark sides, and their ideals as reflected in contemporary culture and media. The reception also will include sales of the newly released Law Centennial Book titled, "Celebrating Gonzaga School of Law: The First 100 years," written by local journalist and film critic Dan Webster.  . . . Read More
---
Oldest Written Native American Musical Score
SPOKANE, Wash. – More than 100 years ago, Gonzaga's founder Rev. Joseph Cataldo S.J., wrote the oldest musical score for any song in any Native American language in North America. In 1909, Father Cataldo compiled an entire hymnal comprised of 17 Nez Perce hymns for use throughout the Catholic Church year. His hymnal has just been reissued as "Nez Perce Hymns and Prayers Translated from Latin by Joseph M. Cataldo, S.J.," edited by Catherine Brown Tkacz, Ph.D. A generous donation from Patrick and Mary Griffith, parents of Gonzaga alumna Kate Griffith (2012), funded printing of the new edition. As part of Gonzaga's 125th Anniversary Celebration Week, Tkacz (pronounced tuh-kahtch) discussed this remarkable religious and cultural treasure during a public campus lecture Sept. 12 titled, "Kum Anieuat: Hymns in Nez Perce." The presentation also included singing of hymns. Tkacz is a research associate for Bishop White Seminary at Gonzaga. Click the image below to view the presentation: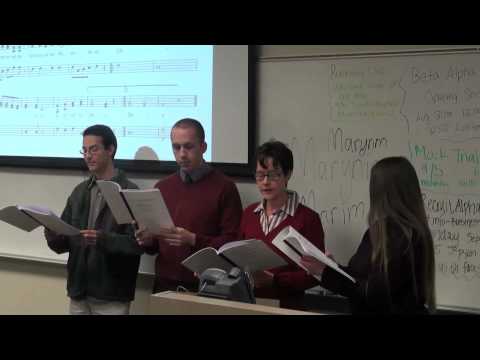 The Gonzaga University Faith and Reason Institute sponsored the event. Father Cataldo and the other Jesuit missionaries of the Pacific Northwest exemplified the pastoral union of faith and reason in their abundant, respectful translation of Scriptures, hymns, and prayers. . . . Read More 
---
GU to Mark Jesuit Heritage Week Sept. 24-27
SPOKANE, Wash. – Gonzaga will mark Jesuit Heritage Week, Sept. 24-27, with two lectures on Catholic identity, a showing and discussion of the movie "The Mission," and a special Mass. Loyola Marymount University theologian Michael Horan will presents the first lecture, at 7 p.m., Sept. 24, titled, "Catholic Identity 50 Years after Vatican II: The Church in the Postmodern World." Rev. Patrick Howell, S.J., rector, Arrupe Jesuit Community, Seattle University, will present a lecture titled "Ever Ancient, Ever New: The Jesuits Respond to Vatican II with Alacrity" at 7 p.m. Sept. 27. The film "The Mission" will be shown at 7 p.m. Sept. 25 with discussion to follow. Both lectures and the movie will be held in the Jundt Art Museum Auditorium. To celebrate Jesuit Heritage Week, Oregon Province Provincial Rev. Pat Lee, S.J., will preside at Mass at 5:10 p.m., Sept. 26 in the University Chapel.
---
Ferch Earns More Writing Honors
SPOKANE, Wash. – Gonzaga University Professor Shann "Ray" Ferch, a distinguished fiction writer, poet, and scholar of leadership and forgiveness studies, is one of 12 authors nationwide who will receive an American Book Award from the Before Columbus Foundation for "American Masculine" (2011; Graywolf Press) his collection of short stories. The 2012 American Book Award winners will be formally recognized at 2 p.m., Sunday, Oct. 7 on the campus of the University of California at Berkeley.  . . . Read More
---
 Avista Corp., Washington Trust Bank Premier

Sponsors of Gonzaga's 125
th
  Celebration
SPOKANE, Wash. – Spokane-based Avista Corp. and Washington Trust Bank, two of Gonzaga's longest-running corporate supporters and cornerstones of the Inland Northwest, have joined Gonzaga as premier sponsors of its yearlong 125th Anniversary Celebration, themed "Tradition and Transformation." Gonzaga launched the Celebration during commencement ceremonies May 12-13. The Gonzaga University School of Law will kick-off its Centennial Celebration this fall. Avista and Washington Trust Bank have virtually grown up with Gonzaga and have provided critical support to the University in innumerable ways throughout their shared histories. Avista will celebrate its 125th anniversary in 2014 while Washington Trust Bank – founded in 1902 – is marking its 110th birthday this year.  . . . Read More
---
Gonzaga Keepsake Books Make Great Gifts
SPOKANE, Wash. — Stories and pictures of Gonzaga's lore unfold vividly in a new keepsake book, "Celebrating Gonzaga: The University and Its People," published in commemoration of the University's 125th Anniversary. Why did the Jesuits come to Spokane? How were women received on a once all-male campus? Where does Gonzaga go from here? The University also has published the first historical collection of stories on the Gonzaga School of Law. "Celebrating Gonzaga School of Law: The First Hundred Years," captures the creators, innovators and characters that have brought the school to national prominence. Both books are on sale at the Zag Shop, or online at gonzaga.edu/anniversarybooks. Either book — or both — would make great Christmas gifts for the Zags in your family.
---
Two Baseball Zags Named Top Prospects
SPOKANE, Wash. - Two Gonzaga baseball players have been named top prospects by Baseball America. Junior pitcher Marco Gonzales was listed as the No. 6 prospect on Team USA and sophomore pitcher Derek Callahan was listed as the No. 9 prospect from the West Coast League. This past summer, Gonzales pitched for the USA Baseball Collegiate National Team and finished 3-0 in four appearances with a 2.82 ERA. The lefty from Fort Collins, Colo., also was named Best Pitcher of the Honkbal Tournament in Haarlem, Netherlands, where Team USA took the bronze medal. Callahan turned heads with his performance for the Wenatchee (Wash.) AppleSox. The Edmonds, Wash., native finished 6-2 with a 2.59 ERA in 12 games. The lefty was nearly perfect in the playoffs – 2-0 with a 0.68 ERA. Callahan also was named All-WCL second team and was a WCL All-Star. The Bulldogs have begun fall practice.  . . . Read More
---
Halle Goodwin
 Named Miss Tri-Cities
TRI-CITIES, Wash. – Halle Goodwin, recently crowned Miss Tri-Cities for 2012, might have to set aside her motorcycle helmet to wear her tiara and attend to royal duties. Goodwin is balancing being Miss Tri-Cities, competing for Miss Washington and pursuing her second year of studies in business and finance at Gonzaga. "I live every moment enjoying each moment," Goodwin said, the day after receiving the honor in July. "I've always held myself to pretty high standards, and I think the people have high expectations for Miss Tri-Cities." While the motorcycle is a relatively new interest, Goodwin strives to excel in all she does, including a passion for dance. She made SafeKids USA, a nonprofit dedicated to eliminating preventable childhood injuries, her platform to promote positive change as Miss Tri-Cities.   . . . Read More