A Gonzaga University 125th Anniversary Celebration Event
SPOKANE, Wash. – More than 100 years ago, Gonzaga University's founder Rev. Joseph Cataldo S.J., wrote the oldest musical score for any song in any Native American language in North America. In 1909, Father Cataldo compiled an entire hymnal comprised of 17 Nez Perce hymns for use throughout the Catholic Church year. His hymnal has just been reissued as "Nez Perce Hymns and Prayers Translated from Latin by Joseph M. Cataldo, S.J.," edited by Catherine Brown Tkacz, Ph.D. A generous donation from Patrick and Mary Griffith, parents of Gonzaga alumna Kate Griffith (2012), funded printing of the new edition.
Click the image below to view a video of the presentation: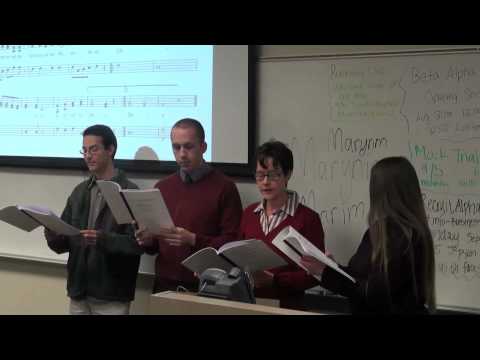 As part of Gonzaga's 125th Anniversary Celebration Week, Tkacz (pronounced tuh-kahtch) discussed this remarkable religious and cultural treasure during a free and public campus lecture Sept. 12 titled, "Kum Anieuat: Hymns in Nez Perce"; the Nez Perce words Kum Anieuat are pronounced "koom Ahn-yeh-WAT." The presentation also included singing of at least three hymns. Tkacz is a research associate for Bishop White Seminary at Gonzaga.
The Gonzaga University Faith and Reason Institute sponsored the event. Father Cataldo and the other Jesuit missionaries of the Pacific Northwest exemplified the pastoral union of faith and reason in their abundant, respectful translation of Scriptures, hymns, and prayers.
Tkacz served as a consultant on rare books and manuscripts to former Gonzaga President Rev. Robert J. Spitzer, S.J. During this time, she discovered the significance of the hymnbook to the Tribe and undertook research to prepare the volume she will present Wednesday. In 2008, Tkacz mounted an exhibition of the Nez Perce materials in the Cowles Rare Books Library in Gonzaga's Foley Center Library and prepared an online version.
Recently, 100 copies of this book were donated to various Tribal group to help sustain the Nez Perce language and to enable worship using this important work. More information on Nez Perce materials also can be found in Gonzaga's Jesuit archives online.
Visit www.Gonzaga.edu/125 for an overview of all Gonzaga 125th Anniversary events, historical timeline, stories, videos, downloads and more.