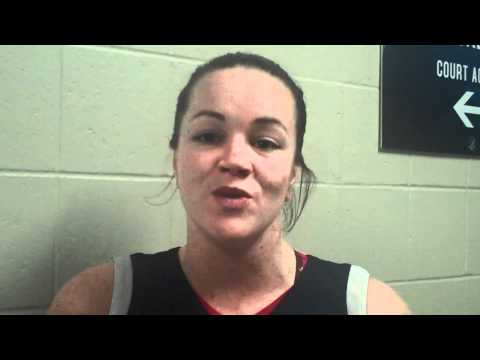 Tracking the Zags
by Sabrina Jones
Kingston, Rhode Island – In the end, it wasn't the turnovers that many thought Kentucky would force upon Gonzaga; it was the three-point line. The Wildcats shot a blistering 57 percent from the 3-point line, totaling 36 of their team's 79 points from behind the arc. Gonzaga, on the other hand, scored just one 3-pointer the entire game. Gonzaga lost their Sweet Sixteen game, 79-62 in the Ryan Center on the University of Rhode Island campus. The Wildcats advance to the Elite Eight and will play No. 1 seed University of Connecticut on Tuesday.
"When they're making threes and you're making twos, you do the math," said Gonzaga senior forward Kelly Bowen. "We weren't really expecting them to be daggers from the three-point line like they were."
Gonzaga senior forward Kayla Standish led the team with 25 points, followed by two of her fellow seniors, Kelly Bowen with 11 and Katelan Redmon with 10. Standish played just 12 of the 20 minutes in the first half, but in that time she scored 8 points, dished out 2 assists and grabbed 2 steals. Seniors Kelly Bowen and Katelan Redmon led the team in rebounding with 9 and 7, respectively.
The Kentucky Wildcats benefited from a balanced scoring attack, led by their sixth man senior guard Keyla Snowden, who scored 15 of her 17 points from the 3-point line. "Keyla is a supremely talented shooter and has been competing on both ends of the floor like a person who is on a mission and wants to get to a Final Four," said Kentucky head Coach Matthew Mitchell. "I think big-time players rise to the occasion and she has certainly done that."
Other leading scorers for the Wildcats included senior forward Samarie Walker with 16, junior guard A'dia Mathies with 15, and freshman guard Bria Goss with 10.
Although Kentucky's defense is famous for contributing to their opponent's turnover numbers, Gonzaga ended the game with just 10 turnovers compared to Kentucky's 14. But the damage was made from other avenues – the 3-point line, the points off Kentucky's bench, the rebounding, and the points from the charity stripe.
With 9:03 to go in the game, Gonzaga cut down a 21-point lead to just 8 points. "We used anything we could to help motivate us and we had the chance," said Gonzaga head Coach Kelly Graves. "I think we were down 8 and at the free throw line, but unfortunately we didn't convert those. Then they (Kentucky) missed and we had another chance to cut it to 6 and it just didn't happen. We absolutely knew we could make that run and just came up short." 
 The seniors on Gonzaga's team leave with 115 wins and 12 tournament games under their belts. "I give a lot of credit to these seniors," said Coach Graves. "From our research, there are only five senior classes who have equaled them in tournament and regular season victories – Baylor, Connecticut and Stanford – that's pretty good company to be in and I'm proud of that."