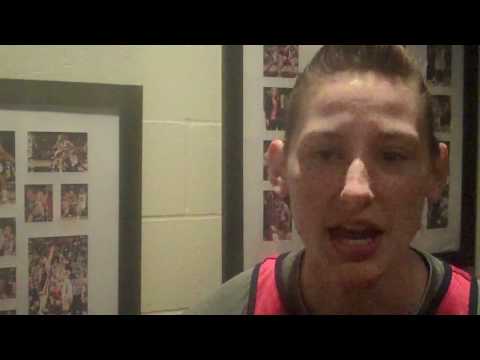 Tracking the Zags
by Sabrina Jones
Spokane, Wash. – It may be gray and rainy outside, but the atmosphere in the Kennel is anything but dreary. The Scarlet Knights made the 2,541-mile journey from New Brunswick, New Jersey, and are taking their first official practice on the McCarthey floor this afternoon.
Rutgers head Coach C. Vivian Stringer likened playing in McCarthey Athletic Center to playing in Gampel Pavilion, the home court for the University of Connecticut women's basketball team. "It's a sea of blue in there, isn't it?" Stringer asked. "We anticipate that the fans will be very proud and very supportive of their team."
"I see Gonzaga as a smaller version of Connecticut, who we played twice this year," said Stringer. "We know it's hard to stop a team who knows each other inside and out, who moves the ball with precision, and who reads each other extremely well. Gonzaga is a team like that."
Currently in her 41st year of coaching, Stringer comes to Gonzaga with an impressive resume, having been inducted into the Naismith Memorial Basketball Hall of Fame in 2009, surpassed 800 career wins in 2008, only the third women's coach and the first African American – male or female – to do so. Coach Stringer was the first coach, male or female, to lead three different teams to the NCAA Final Four: Cheyney State (1982), Iowa (1993), and Rutgers (2000, 2007).
Two of the team's starters – senior forward April Sykes and senior guard Khadijah Rushdan, reflected on what it's like learning from such an accomplished coach.
"She (Stringer) has so much knowledge of the game," said Rushdan. "With her it's not just about the wins and the losses; it's about the effort. Every lesson that we learn, everything that we are taught, is not just about basketball. It is always something that will definitely prepare us for life."
"She doesn't want us to settle," said Sykes. "She is like a mother to us and we love her. She makes good people great and the great people go beyond."
The Gonzaga Bulldogs have been working hard to keep life as 'normal' as possible since learning of their first-ever at-large bid on Monday. Head Coach Kelly Graves is thrilled to showcase not only Gonzaga's women's basketball program, but the University and the city of Spokane, as well. "I love hosting the NCAA here in Spokane because it's a great showcase for our fans, our basektball program, our university and the great city of Spokane. We feed off the crowd as we always do, but there is always some added pressure when you play at home, as well."
Rutgers and Gonzaga tip off Saturday at 1:15 p.m. in McCarthey Athletic Center. The game is sold out but will be televised on ESPN2 and broadcast on 1510 AM or 1050 AM. For live stats, visit gozags.com.