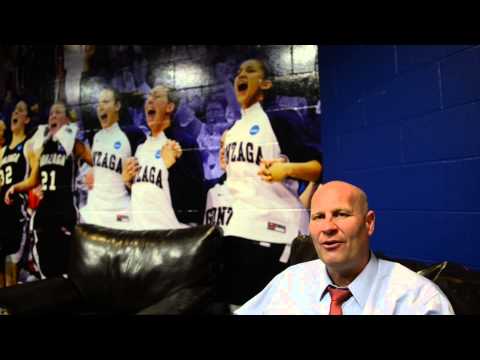 TRACKING THE ZAGS: This regular web series appears here as long as Gonzaga continues its season.
---
By Grace Harrison ('13)
Every spectator in the sold-out McCarthey Athletic Center this afternoon had his or her attention fixed on the court for every moment of the women's NCAA tournament game where the Bulldogs took on the Iowa State Cyclones. The battle kept both teams within a few points of the other all the way down to the last few seconds of play when the Cyclones cemented a 72-60win. The nonstop action might've kept most fans from noticing one of the strongest parts of the Bulldog's game: the bench
"Our bench is animated and supportive. It's a staple of our basketball program—we're all about team. They root for each other and keep the energy up," said Coach Kelly Graves. "Their team dynamic stayed the same transitioning into the tournament, they were dialed in and focused."
Perhaps more than anyone, Chelsea Waters stood out on the Bulldog bench. While she didn't see many minutes on the floor, she was on her feet cheering on her teammates after nearly every play.
"The bench is crazy during the game. We support the team as much as we can because we know it helps them get going. The bench and the fans make the atmosphere 10 times better," said Waters when describing what it's like on the Zag bench during a game. "The support from the sidelines is really important because it helps the girls playing shrug off the small stuff and play their best."
Waters's teammate senior Taelor Karr sees the bench as one of the most important parts of her game
"The bench reminds you that it's not just you, one person, against the other team. They remind you that there are 15 other teammates there for you," said Karr
Another player full of enthusiasm when on the sideline and on the court is senior Meghan Winters. She is the only player who has been to the last four NCAA tournaments for the Zags. ForWinters, her experience with Gonzaga basketball has been her life during her college years.
"I've had so many great experiences with my team on and off the court. I've loved every second of it and I couldn't have asked for a better season. It's going to be a big change being done with basketball. I'm going to miss my teammates so much," said Winters
Coach Graves commented that the team is really going to miss Winters.
"She's a great teammate. Meghan exemplifies everything college athletics are. She may not have been the star player, but she was always the star teammate. She is a great role model for the younger girls. I wish I had her future, because she is going to do amazing things."