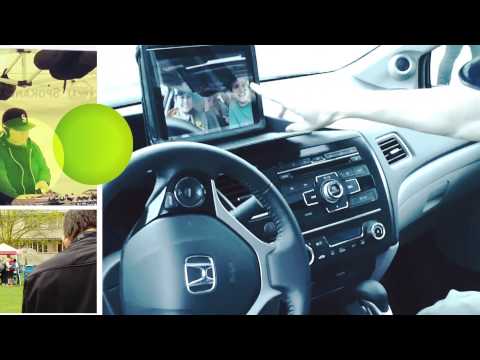 SPOKANE, Wash.  – Gonzaga University's Marketing 490 class placed second in the Honda Civic Sedan Marketing Challenge on May 30. Swerve Productions, the name of the student-run marketing agency, won $5,000 for Gonzaga's School of Business Administration, which will go towards funding future experiential learning.
The competition was part of a unique industry-education partnership that gives students the opportunity to apply their knowledge in the real world by developing and implementing a full-scale promotional campaign for Honda. The class approached the competition by dividing into advertising, market research, promotions, communications, and public relations teams, with one student chosen as the overall project manager.
Swerve Productions was among three finalist teams chosen from 20 schools nationwide that participated in the program last semester. Five of the 16 members of Swerve Productions represented Gonzaga at the competition in Torrance, Calif., where each team presented its campaign to Honda executives. California State-Fullerton, which won the competition, Gonzaga, and Johns Hopkins University each earned $5,000 for its work.
Post-campaign research revealed Swerve Productions successfully changed perceptions and purchase consideration of the Honda brand among the population of Gonzaga undergraduates. The campaign cost $3,000 to implement, but generated an estimated value of more than $36,000. Awareness on campus of the Honda Civic Sedan rose 23 percent during the semester.
Honda sees the competition as a way to use peer-to-peer marketing to increase the appeal of the Honda Civic and also gather potentially usable ideas and strategies from the students' work. "For us," says Professor Peggy Sue Loroz, "it's a terrific chance to engage in real-world experiential learning, but it also gives the students the chance to measure their work against students from other schools and against a professional standard."
Loroz said the class' efforts "really impressed Honda," and " I'm so pleased that they were recognized and rewarded for their efforts." These students researched, planned, implemented and measured results of the marketing campaign as part of a unique capstone course at Gonzaga called the Promotion Project. The class is one of several experiential learning courses offered in the School of Business Administration.
The campaign theme was "Spe-Civic-ally For You" which emphasized that the Honda Civic is fit to serve every person's specific needs for a car. The campaign culminated in "HondaFest" held April 5 on Gonzaga's campus, which helped raise awareness of the 2013 Civic Sedan through interactive games, food and prizes. An estimated 1,250 students attended the event. Between advertising, media stories, an interactive website, social media, and the HondaFest event the project generated over two million total impressions.
For more information, please contact Peggy Sue Loroz via e-mail, or Mary Joan Hahn at 509.313.6095.