TRACKING THE ZAGS: This regular web series appears here as long as Gonzaga continues its season.
---
By Dale Goodwin
SPOKANE, Wash. – Guard U.
This is not a factory, but Gonzaga has produced some pretty impressive guards in the last 30 years, names like Stockton, Stack, Tibbles, Rillie, Santangelo, Dickau, Stepp, Morrison, Mathews and Vandersloot may jog your memories.
This year Gonzaga women's basketball has put together one of its strongest backcourts in program history . . . West Coast Conference Player of the Year Taelor Karr, WCC tournament MVP Haiden Palmer and WCC Defender of the Year Jazmine Redmon. And the character of each one of these student- athletes is every bit as strong as the mettle they exhibit on the court.
"Coach Graves and his assistants recruit great kids," said Karr. "These are kids with great care, great attitudes and strong in school."
"Taelor and Haiden always have my back, and I have theirs," said Redmon. "Taelor will give me this look that says 'Stay calm and relaxed. Everything will be ok.'"
"I know my teammates care about me on and off the court. That's what makes this team so special," said Palmer.
Their mettle was never more evident than in the West Coast Conference final game versus San Diego. Down by 6 midway through the first half, Karr and Palmer led a late first-half charge to put Gonzaga on top 29-25 at halftime. While defense carried the Zags in the first half, a 6-0 run to open the second half gave GU some breathing room. Karr helped key the first-half defensive effort, and scored all but two of her 14 points in the second half, despite a severely bruised tailbone after hitting the floor hard in the semifinal game vs. BYU.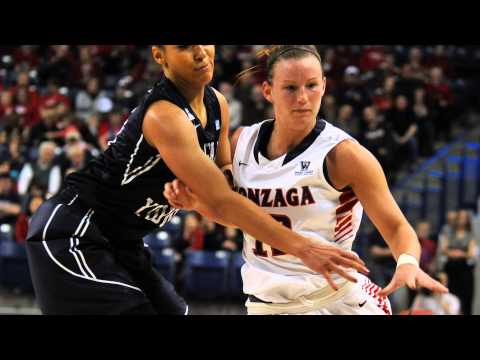 "Last year we were in a Las Vegas tournament playing Georgia," explained Zag assistant Coach Jodie Kaczor Berry. "We were down by 2 and seconds remaining. Haiden came down, hit a pull-up 3-pointer and we won that game.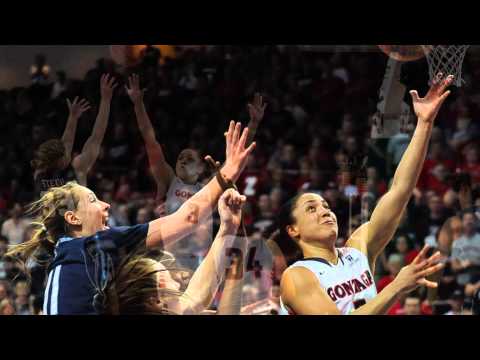 "No matter who we played this year, Jazmine defended their toughest player, whether they were a point guard, wing or power forward. It didn't matter. She made the stops," Kaczor Berry said. "And this year she has come into her own as an offensive threat."
"To be a good team, you've got to have good, quick guards," Coach Kelly Graves said. "We were very inexperienced up front coming into the season, but we relied on those three guards to hold us together. We relied on them until our post play picked up. Now we've pushed to a higher level."
"It's great playing with two people I'm so close to," Palmer said. "And as a group we had to let our big people know we believed in them and we knew they'd come along."
"Haiden and TK (Karr) helped give us confidence," Redmon said. "We now know that when we get the ball to our bigs they're going to convert."
"Coach Graves has been on us all year to get better, to play hard and play well," Karr said. "The strides this team has made are unreal. And it's been fun to watch our people grow up.
"Everyone here cares about each other, and we celebrate the team, not us as individuals. It's all about the team," Karr said. "We do it the right way. That creates great morale. Even if someone is doing badly, their teammates are giving them pats on the back."
Zag fans notice. Gary Blazek, who with wife Joyce purchased the first women's basketball season tickets right behind the Gonzaga bench, said, "It's easy to see the tremendous camaraderie. No one gets snubbed or overlooked. These are great, positive, caring young women, and that carries onto the court."
Twelfth-seed Gonzaga opens NCAA play March 23 in a 1 p.m. game against 5th-seed Iowa State in the McCarthey Athletic Center on Gonzaga's campus. Fourth-seed Georgia takes on Montana in the 3:30 game. The winners return to the Kennel Monday at 6:30 p.m., that winner advancing to the Regionals at the Spokane Arena.