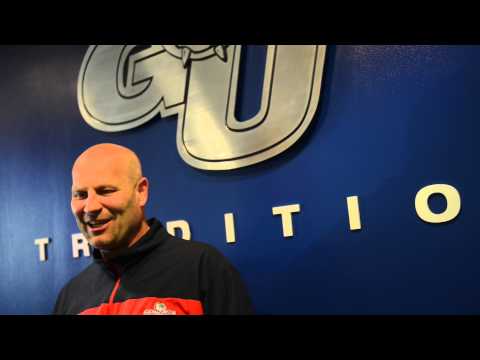 TRACKING THE ZAGS: This regular web series appears here as long as Gonzaga continues its season. Check in for the next story about this team's contribution to Guard U, and Wednesday's feature about front-row fan Gary Blazek and his view of the action.
---
By Dale Goodwin
SPOKANE, Wash. — There's nothing "old hat" about making it to the Dance. Gonzaga women enter the 2013 NCAA basketball tournament for the fifth straight season, no one is taking it lightly, and every member of this team is having fun with it.
The Zags host the first and second rounds at the McCarthey Athletic Center on campus for the third consecutive year, March 23-25. Twelfth-seed Gonzaga (27-5) plays 5th-seed Iowa State (23-8) Saturday at 1 p.m. PDT, and 4th-seed Georgia (25-6) takes on 13th-seed Montana (23-7) at 3:30 p.m. The
second-round game is March 25 at 6:30 p.m. The winner advances to the Spokane Regional at the Spokane Arena.
"Our success is not only a credit to this program and our athletic administration, but to our Spokane community," Graves said. "The fact that we're hosting again is a tribute to this community for supporting women's basketball so well."
Gonzaga averaged 5,678 fans per game this season, among the nation's top 20 draws for the women's game.
"The NCAA wants to put the tournament in places where women's basketball is supported," Graves said.
Gonzaga reeled off five straight wins to open the season, then lost to Louisville, Stanford and Ohio State, before closing non-conference play with a 57-51 home loss to Washington State.
"The kids took the WSU loss hard," Graves said. "But it really helped them refocus. "(Guards) Haiden (Palmer) and Jazmine (Redmon) have been consistent all year, but Taelor (Karr) really picked up her game after that. Our kids rallied going into league." And they've won 17 of their last 18 games.
The inexperience in the post players, evident in the first half of the season, melted away down the stretch. Freshman Shelby Cheslek, sophomore Sunny Greinacher and junior Stephanie Golden got hot. When the bench players weren't dancing after baskets they were contributing as needed on the
court. Freshman Kiara Kudron poured in 8 points in 11 minutes to lead a second-half charge in the WCC semifinal win over BYU.
"The great thing about our team is that so many different players can come through for us," said Palmer. "And when they're not playing they're patting us on the shoulder and telling us what a great job we're doing. There's never any negative talk."
Since Graves took over the program in 2000, his teams have made six NCAA tournament appearances and three at the Women's NIT.