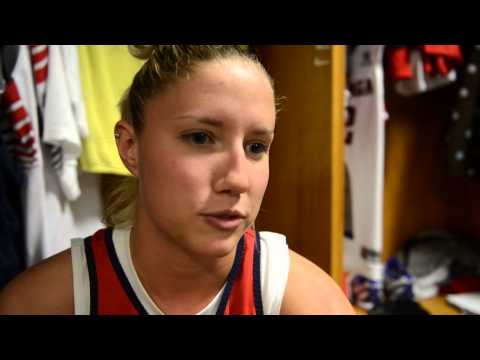 By Grace Harrison
SPOKANE, Wash., — After 32 games, months of practice, and winning the WCC tournament you'd think the Gonzaga women's basketball team would have game preparation down to a fine art, and you'd be right. The Zag women have logged hundreds of practice hours and extensively studied the Iowa State Cyclones' game films in preparation for their first game in the NCAA tournament, but it doesn't stop there. Both at home and inside the locker room the Bulldogs have traditions, good luck charms, and a few rituals to make sure the team's hard work on the court produces a victory.
"I always get up and scout the other team in the morning, and then I have to have an omelet for breakfast. If we're wearing red jerseys, my socks will be white or blue. If it's the white jerseys, then red or blue socks. Your socks and jersey can never match," said junior Stephanie Golden. "I always say a prayer while they're singing the national anthem. We also have a team prayer with Sister Laura before every game. At the WCC tournament, she even made up a rap for us. We have to have a prayer before each game."
Golden's teammate, senior Meghan Winters, added, "Stephanie usually likes to dance for us in the prayer circle too."
Winters starts each game day by meditating in the morning and arriving at the gym two hours early. She also always has to have gum to chew while playing.
For Golden, Winters, and the rest of the squad, the pre-game rituals don't stop there.
"I always have to take a shower, do my hair the same way, and wear the same sweats to the gym on a game day. When I get to the gym, I go shoot 10 from the left side, right side, and middle," said freshman Kiara Kudron. "And Elle always hits my leg with her lucky pig before we go out on the court for a game."
The lucky pig has been a constant in the Zag locker room this year, as he arrived in the backpack of freshman Elle Tinkle this fall. Tinkle has had the lucky pig since her freshman year of high school, and when she signed to play for Gonzaga she knew the lucky pig was coming with her. For the last five years Tinkle has brought him to every game she's played in.
"He's just a little plastic pig, but every game I have to have him," said Tinkle.
When the Bulldogs take the court tomorrow at 1 p.m. against the Iowa State Cyclones, know that warming up is just one of many things the Zags have done to earn another game in the tournament.