SPOKANE, Wash. – Gonzaga University supporters worldwide united in person and spirit Saturday night to celebrate the second National Gonzaga Day and the impact of Gonzaga's global education. Zags were treated to a dazzling halftime show streamed live from McCarthey Athletic Center to 34 alumni chapter events worldwide. Fans cheered the men's basketball team to a 84-69 win over Brigham Young University while the GU women beat Pepperdine 69-39.
Special guest Woo Kim, a 2012 Gonzaga alumnus, native of South Korea, and a marketing manager at Microsoft, rocked the packed Kennel crowd of 6,000 at halftime with an inspiring presentation. Woo said Gonzaga's impact on his life – and the lives of so many others in the University's 126-year history – has been transformative. 
The dazzling halftime show featured video "shout-outs" from Gonzaga students studying abroad including students at Gonzaga-in-Florence, Italy and a dance performance by the International Student Union representing some of the heritages on campus. As the dance performance ended, three giant "We Are Zags" flags, adorned with the flags of the 49 countries represented in Gonzaga's student body, unfurled to blanket the student section and Kennel Club members.
Below watch video of the live "Global Education, Global Celebration" halftime show: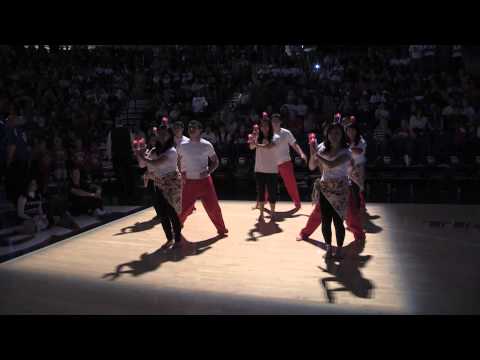 Kim invited the community back to campus for events of global significance on campus Oct. 14-16, including presentation of the 2014 Opus Prize, followed by Reunion Weekend Oct. 17-19. As announced last spring, Gonzaga has been selected to host the Opus Prize, one of the world's most prestigious faith-based humanitarian honors, which includes a $1 million award and two $100,000 awards.
On campus, hundreds of Gonzaga students showed their spirit – camping overnight in "Tent City" on Mulligan Field before the basketball game. To kick-off the day, student campers took part in a Midnight Mass.
The blogosphere remains amped as Zags everywhere use social media to convey their excitement and share in the fun. Visit www.nationalgonzagaday.org to enter a prize drawing, learn more about global Gonzaga and view photos and videos worldwide from National Gonzaga Day.
The evening also marked the opportunity for Gonzaga to thank supporters for helping to change lives forever.
A global perspective is part of Gonzaga's DNA. The University was born of global outreach more than 125 years ago. Jesuits from Europe traveled here to share their Ignatian approach to education with the indigenous people of the Inland Northwest. Fifty years ago, Gonzaga started a study-abroad program in Florence, Italy – becoming one of the first U.S. universities to do so.
Gonzaga's Center for Global Engagement serves as a hub of activity involving faculty, students, and visitors from abroad. The Center will hold a prominent place in the Hemmingson University Center. On the inaugural National Gonzaga Day last year, President Thayne McCulloh shared his vision for this magnificent, ultra-modern University Center. Construction is well under way and on track for a fall 2015 opening.