SPOKANE, Wash. – Allie Burgett, a Gonzaga University senior from Brewster, Wash., has been chosen by fans to sing the national anthem at the Wrangler National Finals Rodeo in Las Vegas at 7 p.m., Friday, Dec. 9. For Burgett, who is majoring in political science and criminal justice, it's a dream come true.
"I have been trying to get up the nerve to audition for this national competition for several years now. It's hard to believe it is actually happening," said Burgett, who will sing on the first night of the championship round of the Wrangler NFR, which kicks off today and runs through Dec. 10.
"It is an honor to sing the national anthem for my country in a place where so many great and respected country music artists have performed in the past, and will be performing in the next ten days," said Burgett, a country music singer. "Being from rural Washington, the National Finals Rodeo has always been a big deal to my community and I feel incredibly blessed to be able to represent my home in Las Vegas and fulfill a dream of mine."
Burgett has been performing the national anthem at events since high school. Her favorite venues include rodeo and other sporting events, including the Omak Stampede and World Famous Suicide Race, and the Seattle Mariners. Most recently, she sang at the Gonzaga men's basketball game vs. San Diego State on Nov. 14 (video below).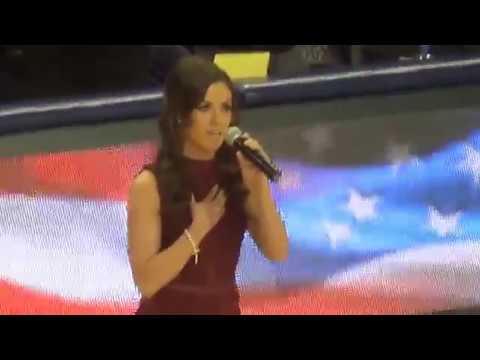 In addition to her singing prowess, Burgett also is an entrepreneur. She started Allie Burgett Custom Signs at age 15.
The nationwide Wrangler NFR National Anthem Contest launched on Aug. 1.